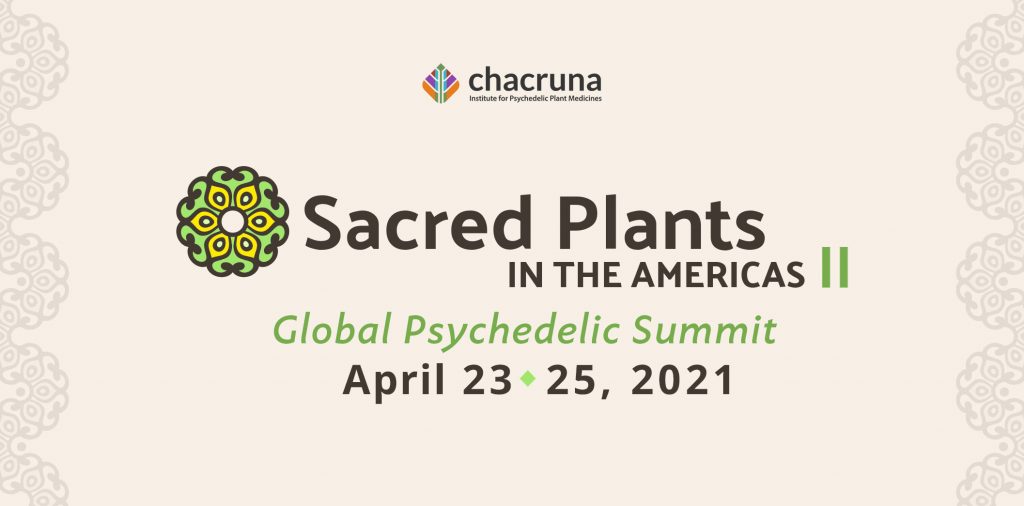 A Virtual Psychedelic Summit on the Globalization of Plant Medicines and Indigenous Reciprocity

April 23rd-25th, 2021
This global virtual summit will bring together Indigenous leaders from throughout North, Central and South America as well as researchers, practitioners, community builders and other experts from around the world. We will discuss the potential benefits and harms of the globalization of psychedelic plant medicines and explore how we can offer reciprocity to honor the Indigenous cultures and traditions that these medicines come from. It is vital that members of the psychedelic community help support Indigenous groups and the traditional spiritual and ecological knowledge they preserve and practice. This gathering is a follow-up to our conference, Plantas Sagradas en las Américas, held in Mexico in 2018. Like our previous conferences, this event reflects the mission of Chacruna by applying a multidisciplinary approach for creating intercultural dialogues and building bridges between Indigenous traditions and mainstream psychedelic science and policy. Indigenous voices have often been marginalized in the contemporary psychedelic conversation, and this event seeks to spotlight these voices and the invaluable wisdom they carry. We will explore how psychoactive plants have been used throughout history and in different geographical areas, as well as their use and active compounds in multiple contexts; including scientific research, empirical experience, cultural manifestations and the ways in which the state has administered these practices. Presentations will address the traditional and modern uses of various psychoactive plants and include a diverse range of perspectives and fields of knowledge. In doing so, this conference invites us to rethink dichotomies such as sacred vs. profane, modern vs. traditional, legal vs. illegal, and natural vs. artificial, thus bringing much-needed complexity and nuance to the mainstream conversation.
In parallel with this event, Chacruna will launch its new Indigenous Reciprocity Initiative of the Americas, a comprehensive online resource that will allow people to connect with and donate to grassroots Indigenous nonprofits and community initiatives at the local level.
About IRI's Launch – April 23, 2021
As part of the launch for the Indigenous Reciprocity Initiative of the Americas (IRI), Chacruna is organizing a private, invite-only event on Friday, April 23rd for businesses, investors and donors that are wanting to give back to Indigenous peoples and Indigenous-led grassroots organizations. We believe this is a very important and timely conversation, and we hope to set a standard that will help shape the uncertain future of our field in ways that honors its roots. If you represent an organization or are an individual donor or investor that is looking to support this work, we invite you to reach out to [email protected] for more information.
Become a Chacruna Member to receive discounted or free tickets and other special perks!
Conference Sponsors
Gold Tier
Silver Tier
Bronze Tier
Supporting Tier
---
Community Partners
Bioneers, Botanical Dimensions, Nierika, North Star, Psychedelic Seminars, Psychedelics Today, Sage Institute, San Francisco Psychedelic Society, Source Research Foundation, Synergetic Press, Wixárika Research Center, Fluence, Heroic Hearts Project, Horizons, OPEN Foundation, Plataforma Brasileira de Politica de Drogas, Plant Medicine Coalition, Psychedelic Support, Maloca Internacionale, Psychedelic Society UK, Limin Foundation, Psychedelic Bar Association, Lucid News and Reconsider.
Sponsorship Opportunities Available (Scholarship Application Now Closed):
Sponsorship helps Chacruna to make this conference affordable and accessible to the public and ensures a diversity of speakers and voices are heard. Sponsors receive recognition for their support of Sacred Plants in the Americas II at the event, on our social media channels, on our conference website, and in the video recordings of the event. All sponsorship donations are tax-deductible.
Disclaimer: Chacruna is not endorsing sponsors regarding their mission or activities. Sponsorship does not include any decision-making influence on the content of any Chacruna event or publication, or any decision-making authority regarding Chacruna policies or actions. Every individual can and should make their own determination on the credibility or value of each sponsor and we solicit your respectful feedback regarding any concerns. The inclusion of links to other sites does not necessarily imply a recommendation or endorsement of the views expressed within them. Although legal issues will be discussed at the conference neither Chacruna nor any of the speakers are providing legal advice to participants. All conference presentations and materials are educational in nature. Chacruna does not advocate any entity violate state, federal, or local laws.
Please email Josh at:

[email protected]

with inquiries regarding sponsorships. (Scholarship Application Now Closed)
Information on Continuing Education Credit for Health Professionals
CE credits for psychologists are provided by the Spiritual Competency Academy (SCA) which is co-sponsoring this program. The Spiritual Competency Academy is approved by the American Psychological Association to sponsor continuing education for psychologists. Spiritual Competency Academy maintains responsibility for this program and its content.
The California Board of Behavioral Sciences accepts CE credits for LCSW, LPCC, LEP, and LMFT license renewal for programs offered by approved sponsors of CE by the American Psychological Association.
LCSW, LPCC, LEP, and LMFTs, and other mental health professionals from states other than California need to check with their state licensing board as to whether or not they accept programs offered by approved sponsors of CE by the American Psychological Association.
SCA is approved by the California Board of Registered Nursing (BRN Provider CEP16887) for licensed nurses in California. RNs must retain this document for 4 years after the course concludes.
SCA is an approved CE provider for National Board Certified Health and Wellness Coaches (CEP Number 100196)
For questions about enrolling in CE or receiving your Certificate of Attendance, email [email protected]
For other questions about CE contact David Lukoff, PhD at [email protected]
Speakers
Aaron Genuth

Adam Aronovich

Adam Strauss

Adele Lafrance

Adriana Kertzer

Alan Davis

Alex Belser

Alexader Beiner

Alexander Beiner

Alí Cortina

Allison Hoots

Amichai Lau-Lavie

Amy Hale

Andy Letcher

Anja Loizaga-Velder

Anne Waldman

Anny Ortiz

Antonella Fagetti

Anya Ermakova

Ariel Clark

Artionka Capiberibe

Ashleigh Murphy-Beiner

Beatriz Caiuby Labate

Biraci Brasil

Bob Otis

Brian C. Muraresku

Brian T. Anderson

Bron Taylor

Bruce Rimell

Bruno Ramos Gomes

Camila Behrens

Camis Benedito

Candida Moss

Cash Ahenakew

Celina De Leon

Chaikuni Witan

Christian Greer

Christopher Timmermann

Citlali Rodríguez Venegas

Clancy Cavnar

Claudia Cuentas

Claudia Cuentas

Cristina Ochoa

Daiara Tukano

Daniel Carcillo

Daniela Peluso

Darren Springer

Darron T. Smith

Dave Barnhart

David Bronner

David Heldreth

David Presti

Diana Negrin

Didier Lacaze

Diego García-Devis

Diego Villegas Kau

Dr. Rachel Yehuda

Eloy García García

Emilia Sanabria

Emily Pothast

Erik Davis

Erika Dyck

Ernesto Schwartz-Marin

Eros Quintero Rodríguez

Esther Jean Langdon

Eva Melendez (Xawan Rabi)

Ewa Maciejczyk

Fernando Huesca

Francisco Apurinã Ywmuniry

Galia Tanay

Gerson Escamilla

Giorgio Samorini

Glauber Loures de Assis

Glenn H. Shepard Jr.

Grace Cepe

Héctor García Rojas

Hereward Edmund Tilton

Heriberto Prado Pereda

Hugo Tangarife

Hunt Priest

Ibrahim Gabriell

Idali Hernández Vicencio

Ismail Lourido Ali

Ivonne Roquet

J. Santos Rentería

Jahlani Niaah

Jaime Andrés Vinasco Barco

Jamie Beachy

Jared Lacy

Jasmine Virdi

Jeffrey Breau

Jessica Felix Romero

Jessica Nielson

Jesús M. González Mariscal

Joe Tafur

Jorge N. Ferrer

José Noyola Cherpitel

Joseph Mays

Josh Meadow

Júlia Sonsin Oliveira